Moxie Wireless Showerhead Speaker from Kohler®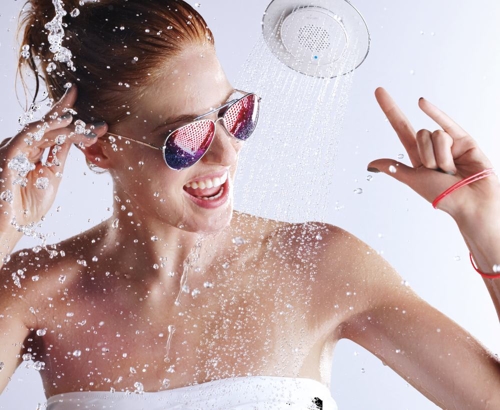 Spice Up Your Shower with Music of Your Choice!
More and more people are taking up using wireless speakers to listen to music, podcasts, comedy, or just about any other form of audio media while taking a shower. While wireless speakers get the job done, they rarely have the power to overcome the noise created by the gushing water and falling droplets. Furthermore, moving the wireless speaker into the shower with you usually isn't an option because the overwhelming majority of wireless speakers are not waterproof and would be ruined after just one shower.
However, what if you could put the power of your music player into your showerhead itself? That's exactly what the Moxie Wireless Showerhead Speaker system from Kohler® does! The Moxie Wireless Showerhead Speaker is a high-quality, waterproof speaker that fits seamlessly into the proprietary showerhead and is held in place magnetically. The speaker connects to your smartphone or tablet via Bluetooth, enabling you to listen to everything from music to podcasts to comedy shows to audiobooks all while enjoying the warmth and comfort of your shower. The ingenious system can be easily removed when your shower is complete and charged via a USB connection. You won't have to worry about charging it each and every night either—the system comes with a seven-hour battery life while offering loud and crystal-clear, high-fidelity sound.
At Tri-City Heating and Cooling, our plumbing experts can install a Moxie Wireless Showerhead Speaker system in your home! Dial (203) 303-5700 to request an estimate or schedule your appointment.
Our Customers Love Us
Read Our Reviews
Great Service!! - Cee M.

Happy Customer! - Bill T.

Very Satisfied - Amy S.

Highly Recommend! - Bec S.

Friendly staff! - LJ P.
A Showerhead Everyone Can Enjoy!
The Moxie Wireless Showerhead Speaker comes in two different varieties for all different types of showers. The Moxie Showerhead features 60 angled nozzles that deliver an even, comfortable, and enveloping spray of water that turns your typical shower into an enjoyable and relaxing experience. It's water-efficient as well, offering you either 2.0 or 2.5 gallons-per-minute spray options without sacrificing on performance. The spray face is constructed from silicone as well, making mineral buildup extremely easy to clean by simply wiping it away. The speaker mounts directly into the center of the showerhead to deliver unparalleled audio clarity and quality in a small and convenient package that mounts to nearly any shower fixture.
The Moxie Wireless Rainhead Speaker is specially designed to integrate the Moxie speaker system into a rain head shower. The rain head spray face measures 8 inches across and delivers a water-saving 2.0 or 2.5 gallons of water flow per minute. However, with air induction technology and 80 spray nozzles, each drop feels large and luxurious for a complete, spa-like experience with every shower.
Like its showerhead cousin, the Rainhead's spray face is also constructed from silicone for easy cleaning and removal of mineral buildup. Likewise, the speaker system also seamlessly mounts into the magnetic hole in the middle of the showerhead for optimal speaker placement and better audio quality for the duration of you your shower.
Call Tri-City Heating and Cooling for Installation Today
Tri-City Heating and Cooling offers installation services for this unique technology from Kohler. Kohler has always sought to bring innovation and ingenuity to plumbing systems while never straying from their reputation of performance and quality. At Tri-City Heating and Cooling, we make it our goal to emulate those qualities and offer world-class craftsmanship and friendly customer service to all customers who trust their plumbing needs to us. When you're looking to upgrade your bathroom and make it an even more enjoyable experience, turn to us for installations that you can depend on.
Contact Tri-City Heating and Cooling and let us take care of installing your Moxie Wireless Showerhead Speaker today!
Lifetime Comfort Club
Join today and leave your home service worries behind!
We are happy to offer our members a number of benefits and perks.